We have been looking for movies like that for a long time.
Cast: All-star cast, and today, we're at Poetry and California Toys R Us. Let's go check out Christmas toys for kids on the spectrum.
[Cut to inside the store]
Presenter: And here we are, in the last second, and let me tell you, all that time, and they found out one of my favorite things this year is this baguette awesome shape sorter. Because it has many different colors and shapes in this, there are so many things they can work on with this. They can work on counting, sorting, and fine motor languishing things. They can stack them together. It's an excellent twenty, especially for kids starting with their [inaudible]. It's great and durable. Associate these alike old fashion voices. That's why I love about does their words.
And, you know, not lag, and they don't have all these little parts, so they're safety ready to start for excellent, and you can use them forever and hand them down to the next generation cause they're so awesome. Yes, she can. Now, this was a lifesaver in my house. This no-still peacock smoothly out. Those are cool too. Lots of cool things to Melissa and Dot. Can you also see they have great baking and different things that don't stop thinking? Do you not cut something that you can do and things you can do, which are great for Danielle's learning options in choices uniform center on twenty-six years?
Mister Altman sent out stories our way. Clinton's money, well spent for the city, has consistent fees forever. Absolutely. My little boy, Why act, has a Thomas obsession, and he is just ranting, and it has not been updated. Well matter. Tell me that I don't know as much about the Thomas trains. I want to ask about the recent children with autism love Thomas needed because the Pascale expressions, which you'll see here, are so pronounced. I can understand that night, and then there are so many different characters, and of course, like any true grapes plane maker, they come out with a whole new range of characters as I'd never heard of the fixture. This is the toxins Karen, and then they have all the trains set out in date. It literally can last a lifetime. I mean, I think we have a small fortune into how the stories of how the title of that selenium agin is mild.
This is another horrible list place to work if you're looking for excellent quality, inexpensive delays that are beneficial. Yes, eleven experience voices is a great sensory wine. This is the Dumbarton eating instant recall cannibalize balls in the housing industry missiles unite median incomes at the pump, and everything sounds like that. There's such a wide range of things. Suppose you're looking for a shapes order in a queue. In that case, this is a beautiful thing to do, but all kinds of toys where they can do so see the dramatic play. They can do all sorts of pretend play here. They can even do I take a lunch shaving can't decide that blanket which I am at fabulous bond fund twenties here that require creativity a lot of fine motors less so aisle of different games children play with my child after something they can help with b I think that's more. He played this one before guests, and yes, there doesn't everybody, you know, s_e_e_n_t_i_, and now they have a Disney cast here and some other versus dying on the internet we can get signed by the husband.
What's this one candidate three fabulous back, and we show you this one had dandruff on the hot new games and straight
an obstacle course, and it's an excellent way for kids to work on their gross motor skills, balance, and coordination. It also comes with a timer, so you can time your child and see how fast they can complete the course.
We have these fidget toys, which are great for sensory stimulation and calming. They come in different shapes, sizes, and textures and can be a helpful tool for children with sensory processing issues. We also have these weighted blankets, which provide deep pressure and can be soothing for children who struggle with anxiety or sensory issues.
And finally, we have these books, which are great for children on the spectrum. They have visual aids and social stories to help children understand and navigate social situations. They are an excellent tool for parents and caregivers to use when helping their children learn social skills.
So, there you have it! These are just a few of the many great toys and tools available for children on the spectrum. It's essential to find suitable toys and tools that work for your child's unique needs and interests, and always remember to have fun and enjoy the journey of learning and growth together.
Related Posts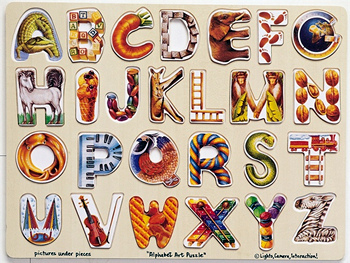 Parents' Choice Award APPROVED AWARD 1996 The vibrant; enlightening illustrations on this award-winning; beautifully crafted wooden puzzle will entertain and educate as children learn their ABCs. Sturdy pieces and corresponding pictures underneath ...
READ MORE
Save 20% on Melissa & Doug products. No coupon necessary. Items are already marked down, just shop and save. With Melissa & Doug Toys customers will find puzzles, puppets, magnetic ...
READ MORE