Autism news summary for 01/02/2014
McKeesport autism foundation receives board-game donation
Source: https://triblive.com/
he Joey-O Foundation for Autism Awareness received a Christmas gift from classic board game developers at Endless Games.
While visiting extended family in McKeesport for the holidays, Endless Games co-owner Brian Turtle donated dozens of games, including the Autism Speaks-endorsed Korner'D, to the foundation
Dad recalls growing understanding of autism
Source:https://www.stltoday.com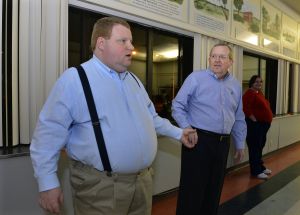 Daniel Hogan (left) was featured in The Star as the 1974 New Year Baby. Later, the Hogans would learn that Daniel was autistic. Daniel, just about to turn 40, lives with his parents, works and participates in Special Olympics. Daniel and his dad, Tom Hogan (right) attended the Special Olympics Christmas dance together at the Roeland Park Community Center Tuesday, Dec. 17, 2013. Daniel had been hanging out alone on the edges of the dance floor so his dad asked Daniel, "Why don't you go and dance?" Read the full story 
Youtube movies uploaded today about autism
About Being Mentally Disabled & About Autism & About Autism Stim
More Than Autism
This movie is about Camp Free2BMe had it's second summer in 2013. The first summer (2012) we served 8 on the autism spectrum, in 2013 we served 28! We are looking forward to serving even more this summer and exploring new places and making new friends.
Related Posts
Autism Speaks Launches Transition Tool Kit
Doctor Linda Heitzman-Powell develops new method for treating
Autism Talk TV: Episode 2 – Take Control
Scientists may have identified a gene that causes
In New Study, MRI Scans First Provide Way
Online Only Midnight Madness EXTRA 5% Ride-On Toys,
Happy Holidays – Autistic teen hadn't spoken a
Weak Value Evidence For Of Autism Treatment
Name necklaces for Autistic children